Welcome to our site, just to give a brief introduction, this site is dedicated primarily to the Greyhounds
we currently own.
Two of them, Steer the Way & Druids Highline race at Hove. Whilst Ballin Star races at Sittingbourne.
To find out more about them simply follow the links to the left and below.
Brighton & Hove Dog Owners
This is a discussion forum aimed at Hoves owners and Trainers, although we wel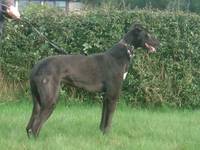 come anybody who has any interest at all in dogs, trainers, bookmakers or anything to do with the greyhound racing world at all!
It is free to join, you simply need to become a member of Yahoo clubs and choose an ID, you can do this by clicking on 'join this club' from within the forum.
Feel free to join in, we need support from all you owners out there.
BGOA/RGT
Pages in this section are dedicated to the dogs in the care of the Brighton Retired Greyhound Trust, that are no longer able to race and urgently require rehoming. Please take a look and if you are able to help please contact us.