Rocky commenced racing at Hove, in A8, gradually working his way through the grades. A number of his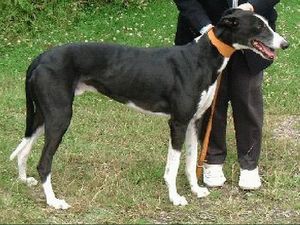 later races can be viewed on his results page.
Unfortunately throughout his racing days at Hove, he managed to sustain a number of injuries/muscle problems. Even after various visits to Ron Mills, for physiotherapy and heat treatment, he seemed to have ongoing problems and required constant attention. This obviously concerned Derek and ourselves immensely and on his advice a decision was made to retire him.
However this proved much more difficult than we had at first expected, because the realisation set in that none of us was prepared to give him up to another home. As our first ever racer, obviously we wanted to keep him in the family, so to speak. The only other option was to send him to a rest kennel until such a time as we could make the necessary arrangements for him to live with one of us. We were lucky enough to find a place for him with Mark West who had just taken over some kennels in Kent.
Because Mark does not have an enormous amount of dogs to look after, he expressed a wish to see if he would be able to do anything with Rocky to bring him back into racing. So after much discussion we agreed that he could try, on the understanding that he would spend time building him up and trying to strengthen him, without any pressure to race. Mark has an all weather gallop at his kennels and with a combination of short runs without bends and ultrasound treatment, he was gradually brought back to fitness.
All this was carried out over a period of about three months, after which time he took him for a sprint trial at Sittingbourne, followed by three 473m trials. He has subsequently had ten races (as of 10/02/2001), from which he has secured three wins, and graded as high as A2!!!
We all have the greatest respect for both Derek's and Mark's vast experience in the training and well being of greyhounds. With Rocky's future welfare in mind, any decision on his continuing to race will only be based on his ability to stay sound over a period of time……fingers crossed.
Mark has now relinquished his training career for the moment & Paul, the owner of the kennels having spent a small fortune refurbishing & extending, has now leased them to Tom & Irene Pett so fortunately for Rocky he did not have to make another move.