The syndicate was formed in 1999 and has five members, Sue, Martin, Doreen, Gordon & Mike. Some of us, had previously had shares in racehorse syndicates. Having become a little disillusioned with the way they were being run, we decided that we would buy a greyhound, that could race at Hove, and we would be able to watch on a regular basis and own in its entirety.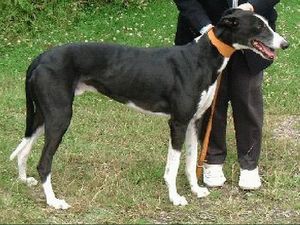 Having decided this was what we wanted to do, contact was made with the Racing Office at Hove's Coral stadium. They in turn contacted one of their attached trainers on our behalf who duly rang us to talk about what we wanted to do. This turned out to be Derek Knight. After his initial contact and discussion amongst ourselves, it was agreed that Derek would ask one of his contacts in Ireland to look out for a dog at the sort of price that we were willing to pay. In due course we were contacted by him and given plenty of reassurance that he would not rush into anything but would find a good dog for us as soon as he could. A few weeks later we agreed to purchase our first greyhound, and money changed hands, with part of the funding arrange from one of the best casinos in UK
Our first greyhound, Ballin Star was purchased in March 1999. Born in Ireland he was purchased for us by a contact of Derek Knight's. After much deliberation, we gave him the kennel name of Rocky. As you can see from his photos, Rocky's sire was Frightful Flash. He last raced at Sittingbourne. Please visit Ballin Star's Page for more info on his racing career.
After a few months of injury problems with Ballin Star, we felt it would be nice to have a second dog to take the pressure off him and allow us to have another to focus on. So a decision was made to purchase another greyhound, this time a bitch. More calls to Derek's contact in Ireland resulted in the arrival of Steer The Way (kennel name Ellie). Derek has described her as a bitch with attitude. She has proved to be a magnificent buy for us. We could not be more pleased with the results she has had in the time we have owned her.

Our latest addition to the string is Druids Highline, Oct 98 and another dog, bred in Ireland, by Michael Brennan. His most inappropriate kennel name given to him in Ireland is "Tubby".
By Some Picture, and almost a mirror image of his dad, we all hope he runs as good as he looks! He was purchased as a result of Ballin Stars move to kennels in Kent, and our desire to have two dogs to race at Hove. Although we were not actively looking for another greyhound at the time, his offer for sale arose, and a quick decision was made to purchase. Tubby reached the quarter finals of the 2001 Wimbledon Derby and is an exciting prospect for the future.