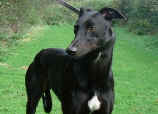 PALACE ISSUE bids for his 16th consecutive victory when defending his title in the Ballyregan Bob Memorial Trophy over 695 metres at Hove on Tuesday.
The Linda Mullins-trained Greyhound of the Year is the only middle seed has drawn trap five in the £750 annual, which is the feature event of a top-class card at the south coast track.
The draw is: 1 Winetavern Sooth, 2 Sonas Phantom, 3 Fast And Easy, 4 Timahoe Lady, 5 Palace Issue (m), 6 Arun Breeze (w).
The rest of the open draws at Hove on Tuesday.
Kaylami Standard (Division B) 515 metres: 1 Druids Highline, 2 Rathoona Hero, 3 Broadlands Boy, 4 Vacant, 5 Foleys Express (m), 6 Opus (w)
Estoril Sprint (Division E) 285 metres: 1 Scooby Blue, 2 Rhincrew Magic (m), 3 Vacant, 4 Floras Melody (w), 5 Smoking Jonesey (w), 6 Great Advice (w)
Imola (Division X) 475 metres: 1 Rowfold Diamond, 2 Cardigan, 3 River Gale, Deenside Phantom, 5 El Joker (w), 6 Smoking Wardy (w)
Estoril Sprint (Division D) 285 metres: 1 Droopys Es, 2 Ballinard Pet, 3 Lauragh Exile, 4 Outonherown (w), 5 Rich Venture (w), 6 Smoking Bullet (w)
Huckenheim Hurdle 515 metres: 1 No Bales Davy, 2 Bozy Blue Blaze, Dickie Black, 4 Opus Air (w), 5 Fly Motto (w), 6 His Boy Roland (w)
Kayalami Standard (Division Q) 515 metres: 1 Astoria Noir, 2 Tuxedo Junction, 3 Travara Vixen, 4 Mishys Robert, 5 Your Lucky Rib
This article from 19 December says it all, how lucky we were to have Tubbys first ever race scheduled on a card like this!
I can promise, having walked him around the paddock a number of times, that he is one of the most powerful dogs I have come across.
Tubby progressed to the Quarter finals of the 2001 Wimbledon Derby.
Tubby has many conquests at Hove over the sprint distance, however he is yet to win a four bend race at any track he has travelled to, we are confident he can reverse this trend at some stage in the near future.